Since I'm on a roll. Well, definitely not on a roll, but posting, I'll share images from the fall on the BU campus. I think the highlight was seeing and photographing Will Lautzenheiser with his new arms. Amazing!
While he can't yet apply pressure to his arms, Will Lautzenheiser is still happy to demonstrate how he can now hug his partner Angle Gonzalez during a press conference to share the news of his successful bilateral arm transplant along with his surgeons Dr Matthew Carty, Dr. Simon Talbot, and Dr. Bohdan Pomahac (not pictured) at Brigham and Women's Hospital (BWH) November 25, 2014. Lautzenheiser, 40, who became a quad amputee in 2011 following a life threatening streptococcal infection received his new limbs from an anonymous donor in October. Photo by Cydney Scott for Boston University Photography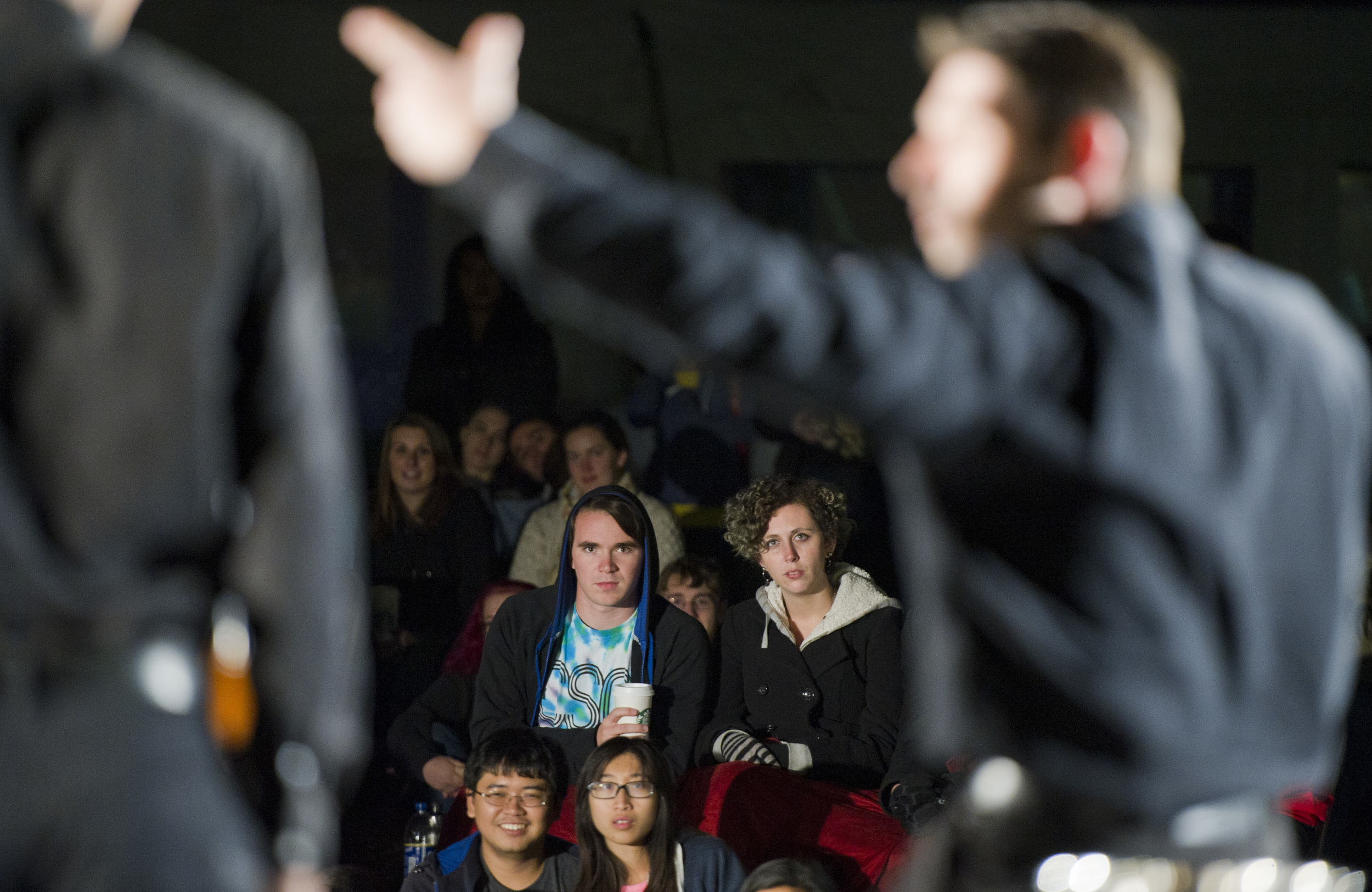 Tyler Cotner (CFA'18), left, and Sarah Mankey (CAS'18) keep their eye on the acting during the New Repertory Theatre's production of Macbeth on BU Beach September 19, 2014.
Photo by Cydney Scott for Boston University Photography
At a forum to discuss the events in Ferguson, MO, citizenship, and social change at Marsh Chapel September 3, 2014, the panel members were Dr Walter E Fluker, Martin Luther King, Jr. Professor of Ethical Leadership, from left, Capt Thomas Robbins, BUPD, Linwood Blizzard, II, Ph.D. Student in Practical Theology at BU, and Dean of CAS Virginia Sapiro. Photo by Cydney Scott for Boston University Photography
Anubhav Nangia (SAR,'15) spent his summer internship working at the Shapiro Cardiovascular Center at Brigham & Women's Hospital. Photo by Cydney Scott for Boston University Photograph
CAS reflects in the glass of the new The Sumner M. Redstone building in the evening light September 3, 2014. Photo by Cydney Scott for Boston University Photography
Students come and go from class outside Alfred L Morse Auditorium in the morning of September 5, 2014. Photo by Cydney Scott for Boston University Photography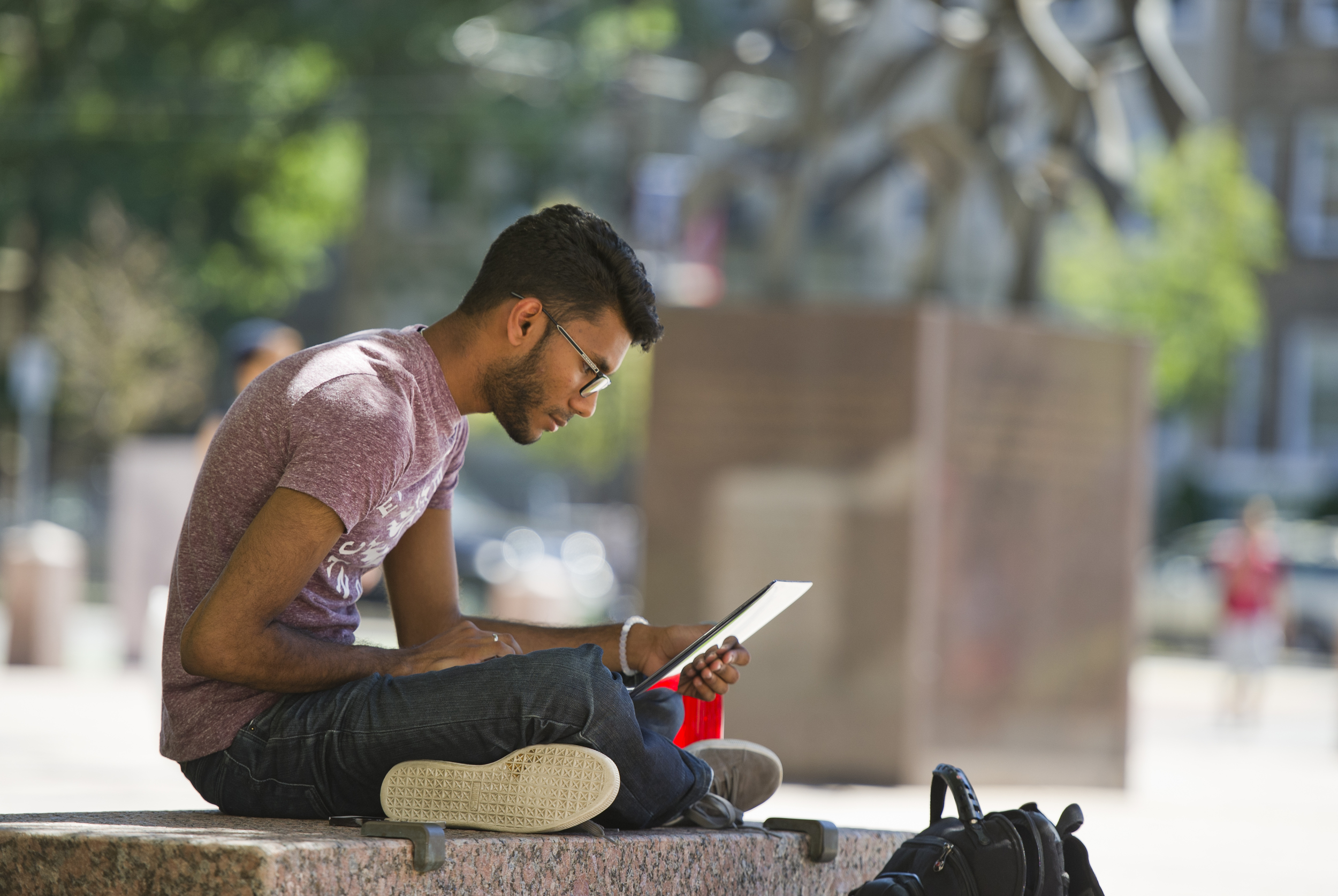 Bryan Salvadore (LAW'16) studies trust bill and basic estate planning on a sunny afternoon in Marsh Plaza September 4, 2014. Photo by Cydney Scott for Boston University Photography
Debbie Hinck (LAW'17) from left, Yelena Kuznetsov (LAW'17), and Hillary Chadwick (LAW'17) get to to know each other during a break between classes September 4, 2014. The three had met briefly for the first time back in the spring during an orientation. Photo by Cydney Scott for Boston University Photography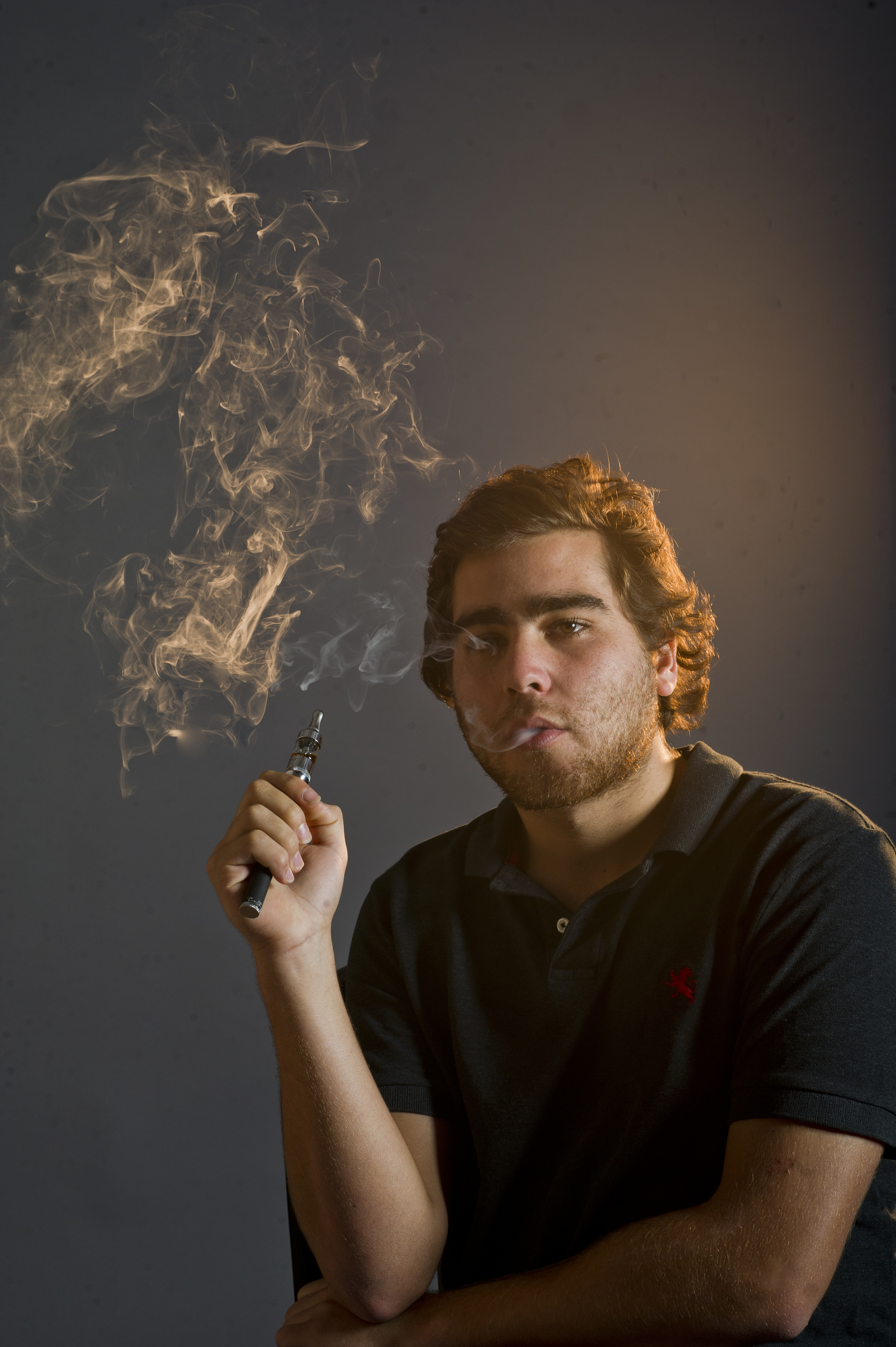 For a story about vaping. Photo by Cydney Scott for Boston University Photography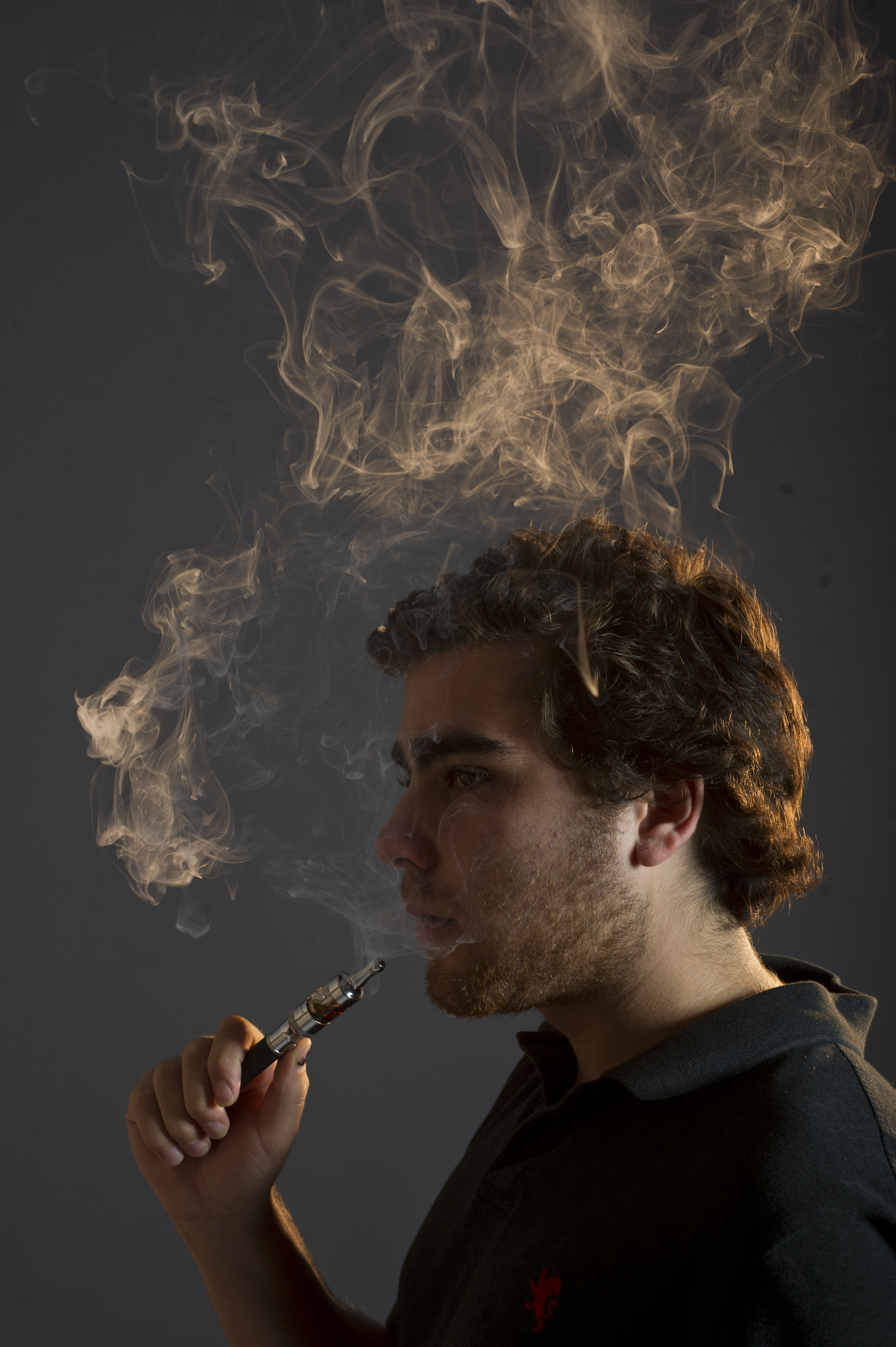 For a story about vaping. Photo by Cydney Scott for Boston University Photography
Revelers take on a limbo pole during the Deaf Studies Club ASL Ball November 14, 2014 in the GSU backcourt. Photo by Cydney Scott for Boston University Photography
Scott Allen Jarrett, DMA directs the Boston University Symphonic Chorus, members of the Back Bay Chorale and the Marsh Chapel Choir, and the BU Symphony Orchestra during practice at Tsai November 19, 2014. Photo by Cydney Scott for Boston University Photography
QinQing Hilkert, DMA and assistant conductor for BUSO follows along in a score during practice at Tsai Center November 19, 2014. Photo by Cydney Scott for Boston University Photography
The BU Women's Crew Team coach Stacey Rippetoe does her thing on the Charles during an early morning practice October 7, 2014. Photo by Cydney Scott for Boston University Photography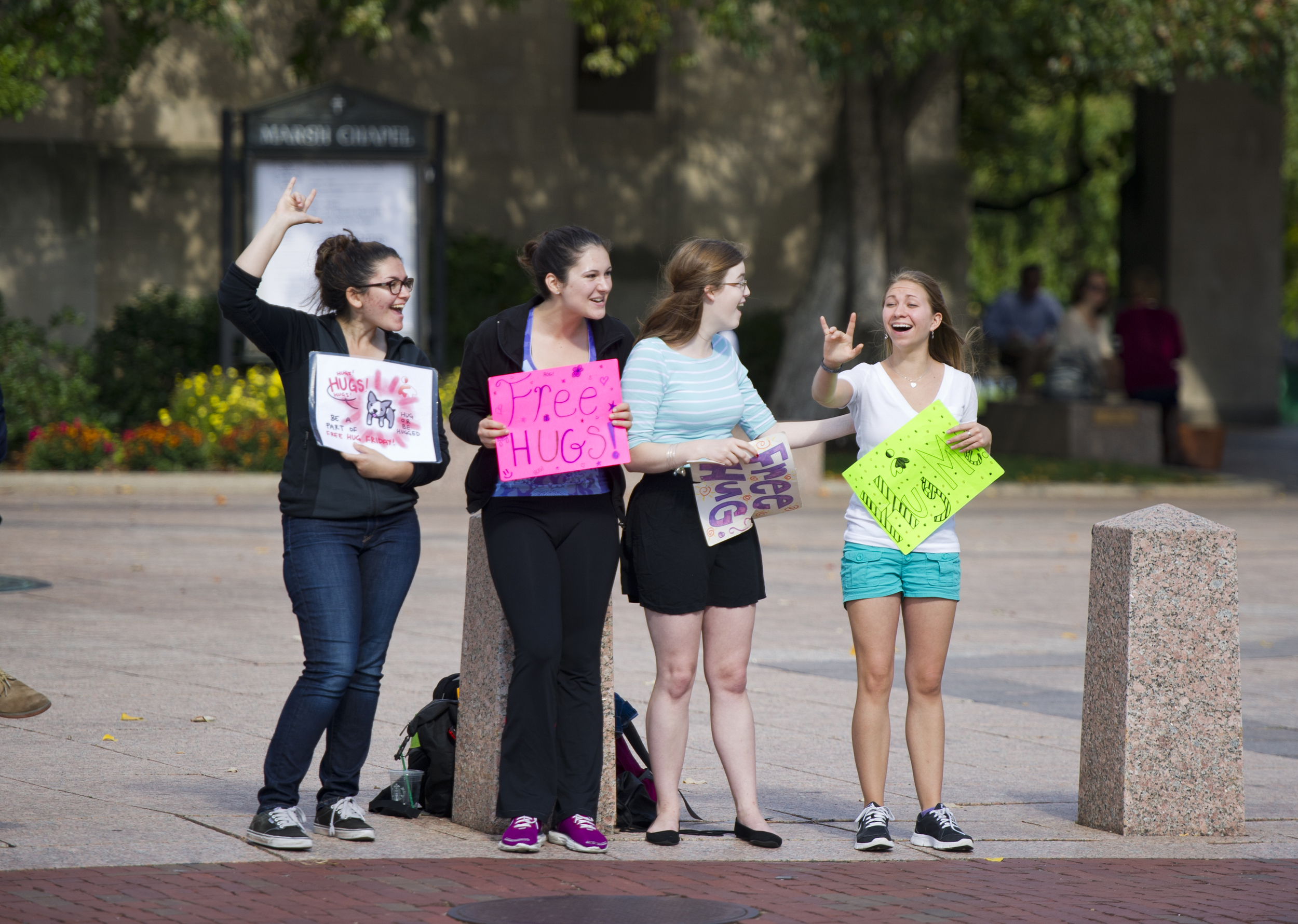 When a passerby flashes them the ASL sign for "I love you" I Embrace You president Melanie Kirsh (CAS'16), far left, and Chelsea Hammond (SED17), far right, react by doing the same at Marsh Plaza October 17, 2014 . Between Kirsh and Hammond and also on hand to dole out some love were Taylor Adkin (SAR17), left, and Courtney White (SAR17). Photo by Cydney Scott for Boston University Photography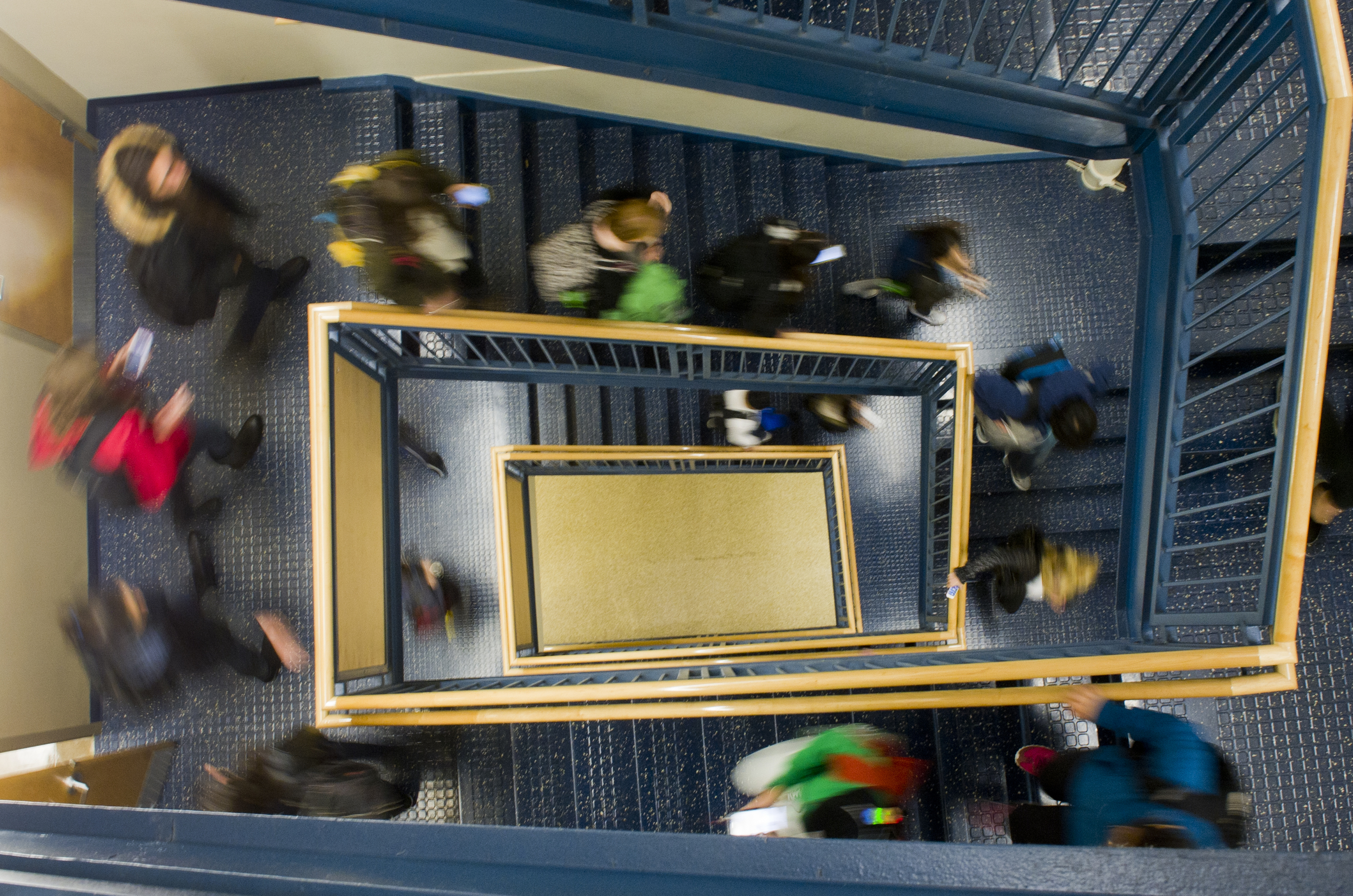 Students hit the stairs between classes at CGS November 6, 2014. Photo by Cydney Scott for Boston University Photography
Claire Richer (CAS'15) from Students for a Just and Stable Future cycles to raise awareness of climate change in the GSU link November 7, 2014. The group was also sharing a petition in an effort to get BU to stop investing in fossil fuel companies. Photo by Cydney Scott for Boston University Photogra